Easter Event
A successful inaugural event was held in the woods on Easter Sunday 2010. Special log benches had been made the day before and we were blessed with good weather. Rev Donnie MacSween started proceedings with a short service in which he made reference to the heritage of the woods and the good that people do living after them. The judges then judged the egg painting competition, children had their faces painted, looked for the hidden Easter eggs and children and families took part in egg rolling down the slope of the moraine ridge. Meanwhile the breakfast barbecue was going flat out. The feed-back (oops!) was very good and we look forward to future events of this nature …. and indeed others. The benches are tailor-made for school groups, ranger led events, ceilidhs etc.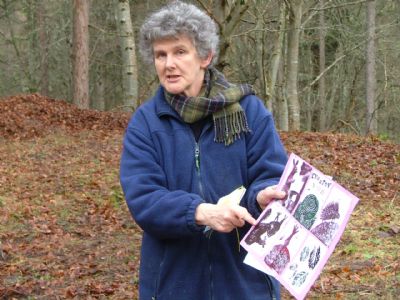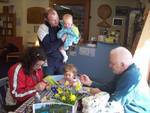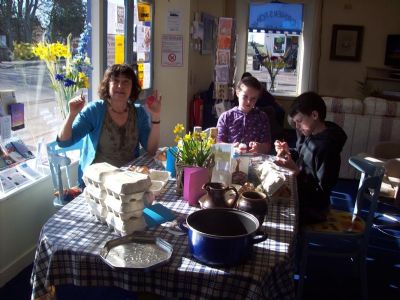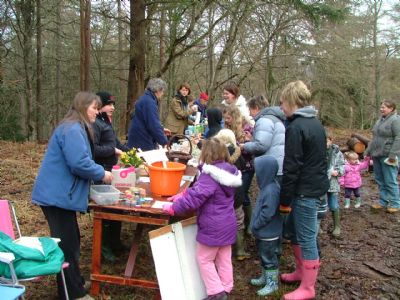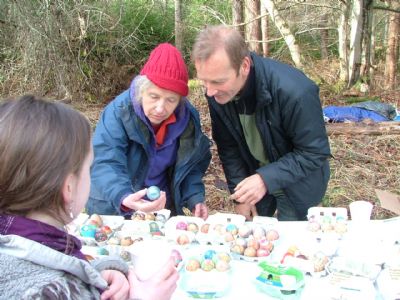 Special Report by Tabitha Stevens (aged 13)
"Easter Sunday, woke up early, really excited! First thought was, mmm...chocolate and easter egg hunt! 9.00am was the Easter egg hunt in the Evanton woods so I got dressed, wellies and all and walked up the road and track to the woods with my Dad, and dog, Casper. First of all we got given a service by Donnie McSween and we sang songs about Easter. It was really nice to see all the children and parents getting together in the woods on a beautiful Easter morning!
After the service, pancakes, bacon and sausage rolls were being made. Yummy! Also, the decorated eggs made by the primary and nursery pupils at Kiltern were on display, and I must say, those eggs were fantastic! Really bright and cheerfully designed! After a big filling of scrumptious food the hunt was about to begin. Before I knew it, most of the children around me had disappeared. All I could hear was shouting, " Hey! FOUND ONE! " It was really fun.
So, next was the decorated egg contest. There were prizes for nursery, p1-p4 , p5-7 and adult's. The prize winners each got an easter egg and a rosette. The next bit was my favourite! The egg rolling! We all each grabbed 2 or 3 eggs and paraded up the steep hill to where we would roll the eggs. The eggs looked like royalty, decorated like they were and I didnt want to spoil them by rolling them. But still we had great fun rolling them and Casper my dog was having a great E aster day catching the eggs at the bottom of the hill and eating them....yuck! It nearly became an egg fight as the eggs ended up flying everywhere. But then the rolling came to an end and we got back to eating pancakes and bacon rolls!
After relaxing a bit and talking to people about the beautiful day, we cleared up the tables and chairs and set of home after the great time! I cant wait until next Easter! Hopefully it will be as good as this years Easter outing to the Evanton woods!"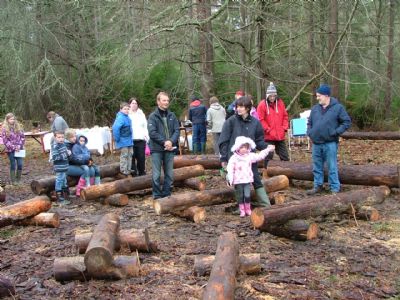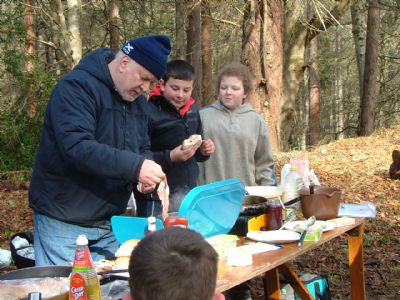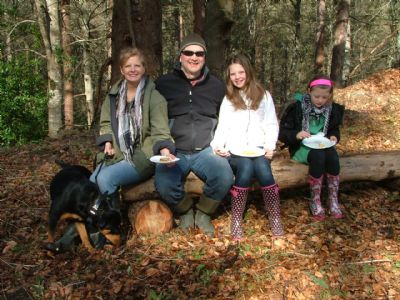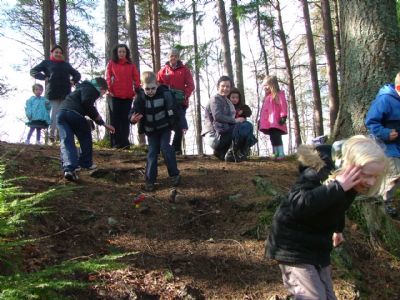 "Early on a sunday morning i joined some friends in the woods for a church service by Mr Macsween. This was followed by an egg hunt where we got to run around helping each other find some chocolate eggs. Then we had time to eat some delicious food and talk to friends. We later got to roll some eggs down a big hill in the woods. I found this to be great fun. Something different to do on a sunday morning."(Alexander Robertson, age 9)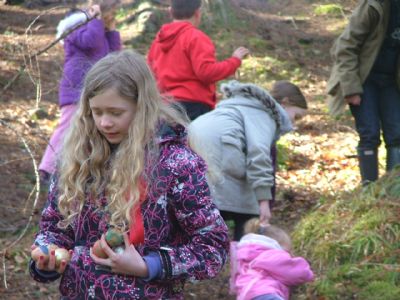 Thanks
Novar Estate (and sawmill) for allowing us to use the wood and for donating wood for the seating and the signs
Cameron Wood and Chris Sharratt for making the benches
Evanton Co-op and Lidl who gave us food for the BBQ
John Gordon of Highland Feather Fresh for 15 doz eggs for painting
Cornerstone who gave us space to paint the eggs and wholeheartedly supported our efforts and were very hospitable to us
Donnie MacSween and Mike Finlayson for conducting the early morning service
Members and supporters who donated funds
Committee members for their sterling work
plus all the people who painted eggs, those who came to the event and made it such a success.