How to Get There
Please park in the village car-park. The road access is only for authorised users including Disabled people/those with Mobility issues.
By Foot and bike:
Straight up Chapel Road, path at right of the old chapel [Core path sign]. Welcome sign then 2 mins walk to the cabin.
Access also from Knockrash and Glenglass (via gorge bridge). [Core path sign].
The octagonal shelter at Mag's Wood is a 10 minute walk from the Cabin area (take left hand path at the Welcome sign with the map).
By smaller vehicles (business and disability only):
Up Chapel Road (turn in at the Coop), 1st right onto Camden St; road becomes rough track at end; continue for 200m. alongside field until arrive at parking at the cabin. Please adhere to 10mph limit all the way along. If last out please close the gate behind you.
By larger vehicles (Transit van and above)
Please access the wood via the Blackrock Camping & Caravan Park by the bridge over the Allt Graad. We have a right of access but endeavour to inform the park in advance of any larger traffic. Access via the main gate then bear left up the hill until you meet the Camden St extension near the gate to the wood. [The road is currently badly rutted by water damage - Oct 2019]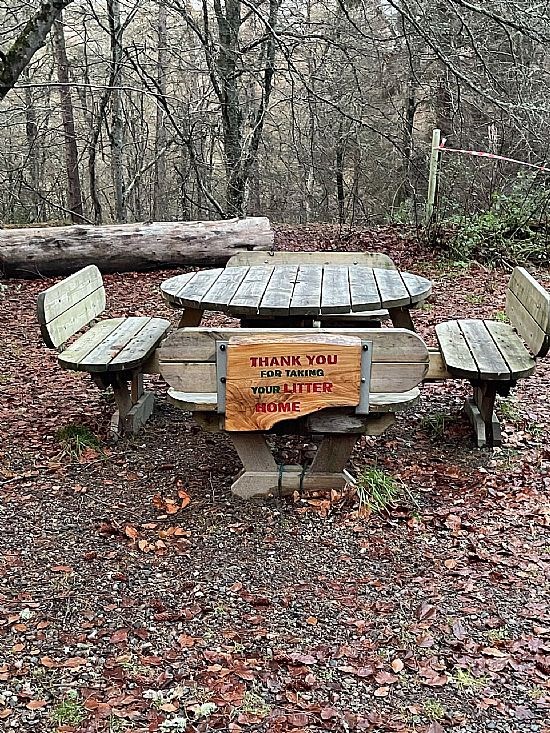 Events
Please keep traffic to the minimum required for delivering equipment and supplies; ensure that participants know to park in the village. Booking Form
Toilets
The all access composting toilet by the cabin is normally open 24/7.
The new all access toilet at Mag's Wood area is open only for special events and on request (booking form).
Dogs
Please keep dogs on a lead in and near the Play Area and at all Events.
Please remove dog poo and take poo bags away (do not decorate the wood).
Thanks